Hardisty, Dalton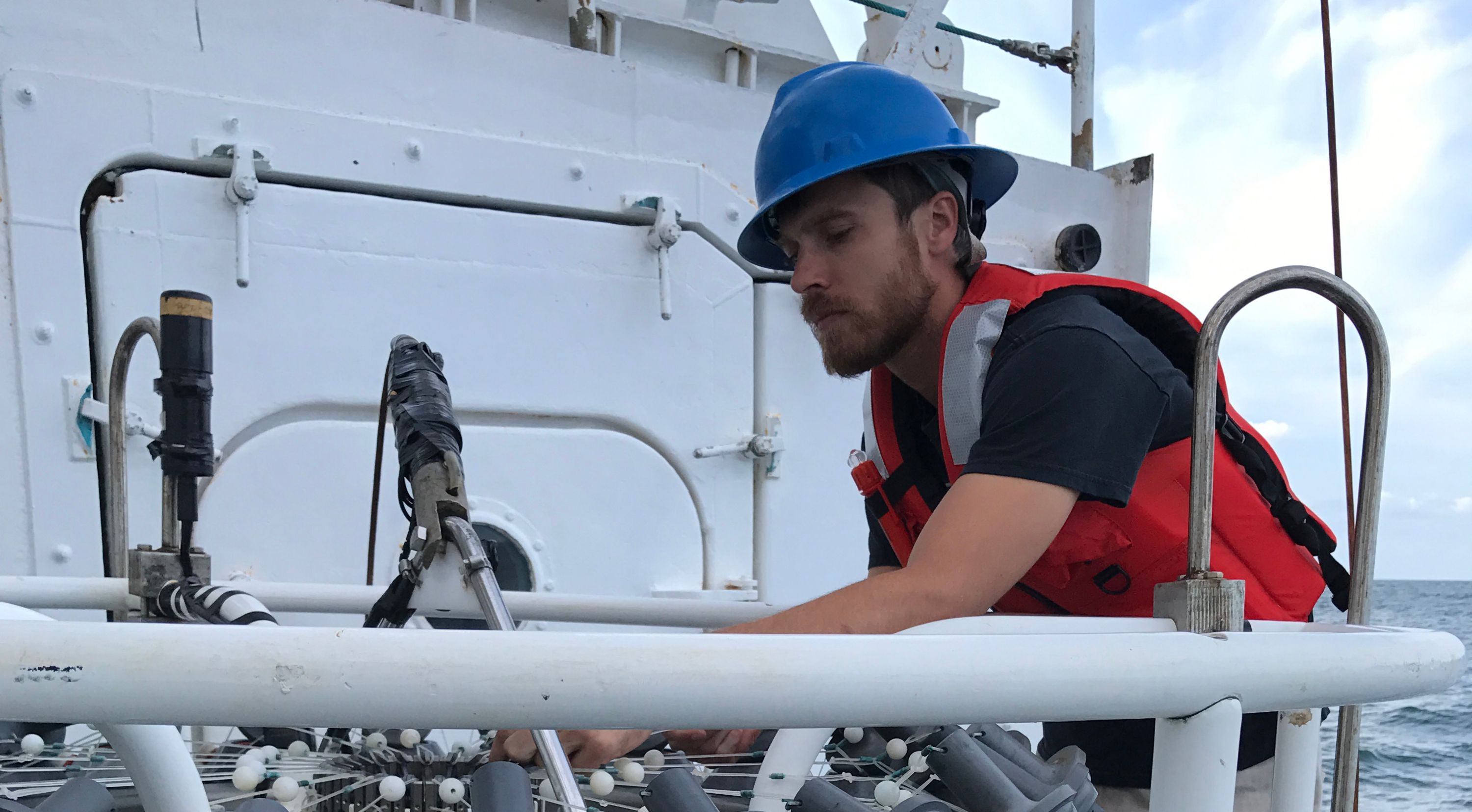 Paleoceanography and Geochemistry
Endowed Assistant Professor of Global Change Processes
207 Natural Science
hardist1@msu.edu
Dalton Hardisty's work has been focused on placing constraints on how ocean chemistry and early animal life co-evolved with the emergence and proliferation of oxygenic photosynthesis over billion year timescales. Additional work focuses on determining the more recent pre-anthropogenic history of seawater oxygen in coastal settings in order to provide a perspective on natural variable and the impacts and consequences of humans on ocean chemistry. These questions ultimately require studies of the geochemistry of modern seawater and sediments, determining how post-depositional processes (diagenesis) might alter sediment geochemistry, as well as applications toward using the geochemistry of sedimentary rocks to reconstruct how ancient seawater contrasted with that of today.
Dalton will join MSU as an Assistant Professor in the Summer of 2018. He is currently a Doherty Postdoctoral Scholar at Woods Hole Oceanographic Institute.
Dalton is looking for graduate students starting in the Fall of 2018 or later. Field opportunities for this position will range from expeditions at sea to sampling of Precambrian sediments. Ideal candidates will have a record of independence, some lab experience, and an eager interest in geobiology on any timescale. For more information, contact Dalton at dhardisty@whoi.edu. The Graduate Programs page has more information for prospective graduate students.
.
Recent Publications
Hardisty, D.S., Lu, Z, Planavsky, N.J., Kah, L.C., Bekker, A., Knoll, A.H., Zhou, X., Osburn, M.R., Loyd, S.J., Jiang, G., Gill, B.C., Diamond, C.W., & Lyons, T.W., 2017, Perspectives on Proterozoic surface ocean redox from iodine contents in ancient and recent carbonate. Earth and Planetary Science Letters 463, 159-170.
Li, C., Hardisty, D.S., Luo, G., Huang, J., Algeo, T.J., Cheng, M., Shi, W., An, Z., Tong, J., Xie, S., Jiao, N., & Lyons, T.W., 2017, Uncovering the spatial heterogeneity of Ediacaran carbon cycling. Geobiology DOI: 10.1111/gbi.12222
Owens, J.D., Lyons, T.W., Hardisty, D.S., Lowery, C., Lu, Z., & Jenkyns, H.C., 2017, Patterns of local and global redox variability during the Cenomanian–Turonian Boundary Event (OAE2) recorded in carbonates and shales from central Italy. Sedimentology 63, 168-185.
Hardisty, D.S., Riedinger, N., Planavsky, N.J., Asael, D., Andrén, T., Jørgensen, B.B., & Lyons, T.W., 2016, A Holocene history of dynamic water column redox conditions in the Landsort Deep, Baltic Sea (IODP Expedition 347). American Journal of Science 216, 713–745
Hardisty, D.S., Lu, Z., Planavsky, N.J., Bekker, A., Philippot, P., Zhou, X., & Lyons, T.W., 2014, An iodine record of Paleoproterozoic surface ocean oxygenation. Geology 42,
Links