Bob Drost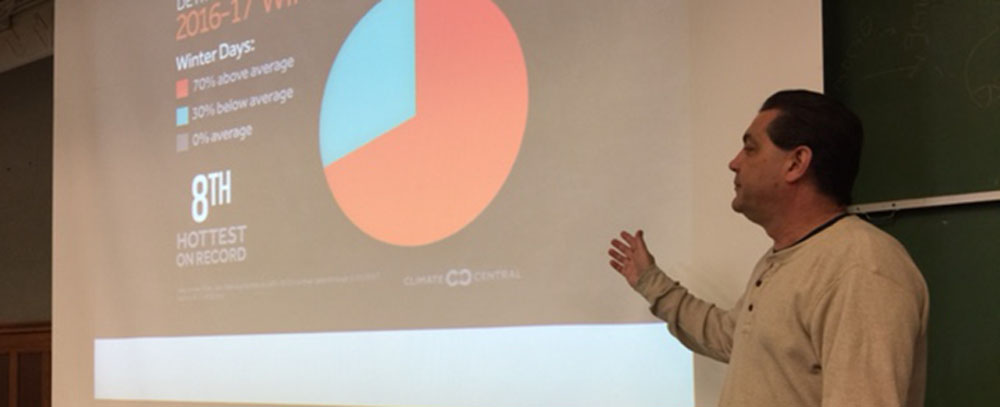 Integrative Geoscience
Teaching Specialist
206 Natural Science
(517) 884-3463
drostrob@msu.edu
My research interests focus on natural hazard mitigation and science communication. Initially I focused primarily on tornado related events, and investigated how warning communication elements and delivery influenced individual decision making during severe events. More broadly, I am interested in the role of science communication and forecasting of hazard information as it relates to public understanding and accountability. I am particularly interested in the potential for broadcast meteorologists to serve as the "science" contact point for public communication and education relating to hazard and climate change issues. My current focus is teaching and I am concentrating on developing state of the art inquiry based/active learning online courses based on analytical thinking and science communication.
Recent Publications
Robert Drost, Mark Casteel, Julie Libarkin, Stephen Thomas, Matt Meister. (2016) Severe Weather Warning Communication: Factors Impacting Audience Attention and Retention of Information during Tornado Warnings. Weather, Climate, and Society 8:4, 361-372.
Robert Drost, Jay Trobec, Christy Steffke, Julie Libarkin. (2015) Eye Tracking: Evaluating the Impact of Gesturing during Televised Weather Forecasts. Bulletin of the American Meteorological Society 96:3, 387-392.
Robert Drost. (2013) Memory and Decision Making: Determining Action when the Sirens Sound. Weather, Climate and Society 5(1), 43-54.
Robert Drost, Sheldon Turner. (2013) GSA Members on Climate Change: Where, What, and Ways Forward? GSA Today v.23, no. 1.
Edward Maibach, Raphael Mazzone, Robert Drost, et.al. (2015) A National Survey of Broadcast Meteorologists About Climate Change. Center for Climate Change Communication April 2015.
Courses
ISB200 The History of Life
ISP203A Global Change
ISP203B Natural Hazards and the Environment
Organizational Commitments
American Meteorological Society Board Member – Social Impacts