Secretary Perdue Meets Basso: Ag Innovation on Display
Release Date: Apr 5, 2018
US Secretary of Agriculture Sonny Perdue kicked off his third "Back to Our Roots" RV tour at Michigan State University on Tuesday, April 3rd. Perdue spent the morning touring various locations on the MSU campus, learning how MSU uses its land grant mission to improve agriculture nationwide. One of the highlights of his tour was a visit with EES' own Dr. Bruno Basso, MSU Foundation Professor and an expert in precision agriculture.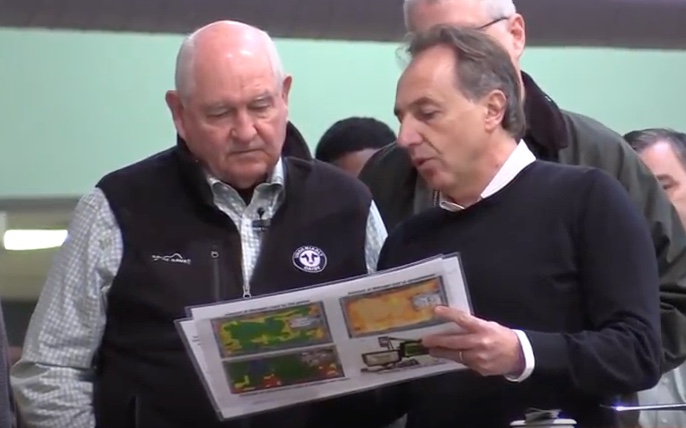 Basso's research utilizes drones outfitted with sensors to monitor and analyze spatial and temporal variation of crop growth in fields across the US Midwest. Crop size, nutrient and temperature data are integrated into a crop simulation model called SALUS, which stands for "System Approach to Land Use Sustainability". SALUS, along with the knowledge provided by the remotely sensed images, predicts what is the best management strategy to implement on each field. Farmers can use this information to pinpoint applications of water, fertilizer and other resources such that their profitability is increased and the environmental impact and waste of resources are reduced. As Basso explained, "We physically write a prescription, like a doctor would to a patient, and we give it to the farmer, who puts it in the tractor to then deliver the "prescribed" amount of input such as nitrogen fertilizer, different cultivars, or the number of plants in the right place, at the right time and the right amount."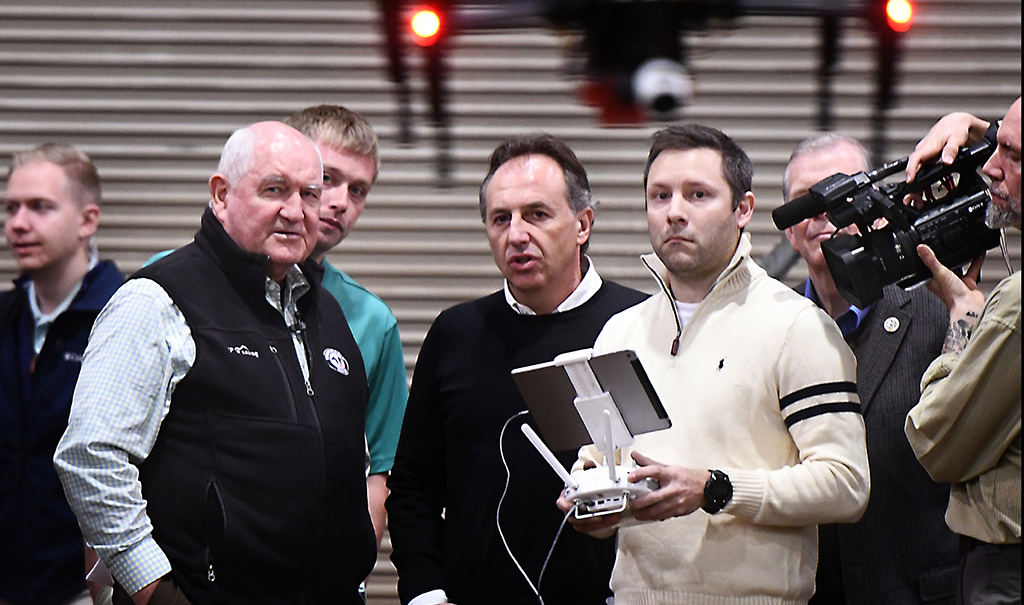 Basso's fleet of unmanned vehicles and associated technologies were on display at the MSU Pavilion. Secretary Perdue, a pilot himself, took a keen interest in the flight demonstration run by Research Associate Rich Price. As Price explained, "Secretary Perdue has skin in the game because he has a background in farming. It seemed like he really did understand and cared about the work that we are doing because he saw the practical application and benefit a farmer would get from this research."
USDA funds agricultural research, education and extension through the National Institute for Food and Agriculture (NIFA). NIFA is the main sponsor of Basso's research in precision agriculture to enhance the sustainability of agricultural systems across the US.
Share this story
Contact
Interim Department Chair:
Dr. Jeffrey Freymueller
(517) 355-4626

Department Office:
Natural Science Bldg
288 Farm Lane, Rm 207
East Lansing, MI 48824
(517) 355-4626
(517) 353-8787
geosci@msu.edu