Milestone Calling: Bruno Basso Meets Al Gore
Release Date: Nov 17, 2017
You know your work is making an impact when world leaders come calling. MSU Foundation Professor and EES Faculty member Dr. Bruno Basso recently received just such a call from former Vice President Al Gore. Basso was invited to sit down for a one-on-one meeting with the renowned environmentalist and 2007 Nobel Peace prize winner on November 14, 2017 in San Francisco, CA.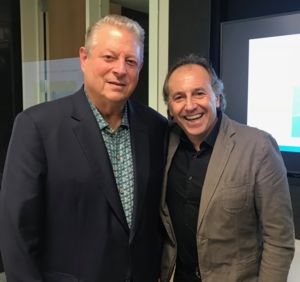 Al Gore and Bruno Basso
Gore, the 45th Vice President of the United States and 2000 Democratic Party Candidate for President, is Chairman of The Climate Reality Project, an organization focused on education initiatives related to climate change and grassroots networking.
During the two-hour session, Basso explained the science behind his latest research which aims to increase the nutrients used by plants and reduce fertilizer runoff without impacting crop yield. Basso developed a new method that integrates remote sensing imagery of crops with simulation models to examine why crop yields vary over space and time. This method quantifies water, carbon and nutrient fluxes within a farmer's field, and across fields in the US and globally. The data is used to pinpoint the exact amount and placement of fertilizer and water necessary to produce and sustain healthy crop yields.
Basso said Gore took a keen interest in the science behind the technology. "He knows a lot about the impact of climate and CO2…but he was never exposed to this technology, and he was pleasantly surprised by its potential to reduce the losses of fertilizers to the environment and greenhouse gas emissions to the atmosphere. Gore was just very much engaged during the meeting, and truly appreciated the value and impact of the science I was showing him".
Gore is the co-founder of Generation Investment Management, an investment management firm that focuses on sustainability and renewable energy. His firm invested in CiBO Technologies, a Boston start-up company that is leasing from MSU the technology that Basso patented.
Basso said the experience was significant. "I define Mr. Gore one of the most influential people on the planet in relation to the well-being of the planet. It was a special treat for me to be able to talk with him about science - a big milestone in my professional career that I will cherish forever."
Share this story
Contact
Department Chair:
Dr. David W. Hyndman
(517) 355-4626

Department Office:
Natural Science Bldg
288 Farm Lane, Rm 207
East Lansing, MI 48824
(517) 355-4626
(517) 353-8787
geosci@msu.edu