Investiture Honors Four Endowed Faculty Members
Release Date: Mar 26, 2019
Four Michigan State University College of Natural Science (NatSci) faculty members—Jeffrey Freymueller, Dalton Hardisty, Allen McNamara and Songqiao "Shawn" Wei—were formally invested as endowed faculty members at a ceremony held March 21 at MSU's Wharton Center.
Freymueller, the Endowed Chair for Geology of the Solid Earth, and Hardisty, McNamara and Wei, all Endowed Professors of Geological Sciences, are faculty members in NatSci's Department of Earth and Environmental Sciences (EES).
"NatSci is proud to welcome and honor these four outstanding individuals," said Phillip Duxbury, NatSci dean. "We are most grateful to the donors whose generosity made it possible to establish these prestigious positions so that we could attract such exceptional scientists to our ranks."
"This is an extraordinary opportunity for our department," added David Hyndman, EES chair. "Through the generous gifts of our alumni, we've been able to greatly strengthen the entire department, especially in the realm of deep subsurface geophysics. It's something that we never imagined coming together but it became a reality because of the incredible support provided by our anonymous donor and other key benefactors."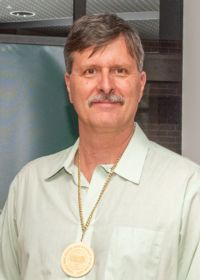 Freymueller, who was previously with the University of Alaska Fairbanks, is an internationally recognized leader in the field of geodesy. He utilizes satellites from the Global Positioning System to make highly precise measurements of movements on Earth's surface. His research activities are far-reaching, and he has made discoveries along a wide range of topics including plate tectonics and plate boundary zones, faults dynamics, the continuing rebound of the Earth's surface from melting ice-age glaciers and the inflation and deflation of volcanoes. Freymueller received his Ph.D. in geology from the University of South Carolina.
"Professionally, this is a great opportunity," Freymueller said. "In my previous position, I really enjoyed what I was doing and got to do a lot of great work, but there wasn't much institutional support; you had to look outside to get resources you needed. It's amazing to be at Michigan State, where significant investment has been made in establishing endowed positions and providing resources to advance our scientific endeavors in ways that wouldn't otherwise be possible. I'm really looking forward to putting those resources to good use and doing some pretty spectacular things while I'm here."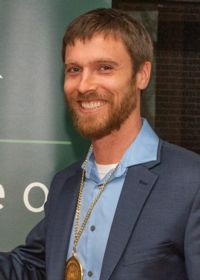 Hardisty's work is focused on placing constraints on how ocean chemistry and life have co-evolved over the last three billion years, particularly with regard to Earth's gradual accumulation of oxygen. Hardisty was most previously a postdoctoral scholar at the Woods Hole Oceanographic Institution in Massachusetts. He received his Ph.D. in geology from the University of California Riverside.
"I'm very humbled to receive this recognition and prestigious position," Hardisty said, "but I think that—more than anything—the creation of these positions and any impact that comes from them is a testament to the commitment of Michigan State and its broader community to not just being a part of—but at the forefront of—research and education. I feel a sense of pride and responsibility in joining MSU and the Department of Earth and Environmental Science as leaders in these efforts."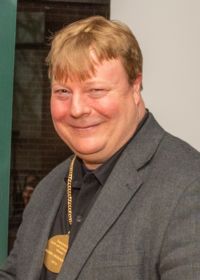 McNamara's research is aimed at understanding the structure, dynamics and evolution of Earth's interior. He investigates how convection within the deep interior cools the planet, drives plate tectonics, and controls the volcanism at the surface. McNamara was previously a faculty member at Arizona State University's School of Earth and Space Exploration. He received B.S. degrees in geology and physics from Michigan State University and his Ph.D. in geophysics from the University of Michigan, Ann Arbor.
"I am incredibly honored to be awarded this position," McNamara said. "As an MSU and EES alum, I am particularly humbled to join the ranks of the many fabulous professors that played instrumental roles in my early career development," he said. "I am even more elated about the renewed energy generated by these endowed hires and the other junior hires made in the past several years. They have revitalized our department, putting us on a strong positive trajectory of scientific excellence."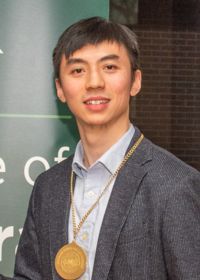 Wei is a seismologist with broad interests in Earth's mantle structures, particularly those associated with subduction zones. His recent work focuses on imaging seismic structures of the Tonga-Lau subduction system, intermediate-depth seismicity in Tonga, and the mantle transition zone. Most previously, Wei was a Green Scholar Postdoctoral Fellow at Scripps Institution of Oceanography at the University of California, San Diego. He received his Ph.D. in geophysics from Washington University, St. Louis, Mo.
"Being an endowed professor as an early career scientist is a great honor, but also means a lot of responsibility," Wei said. "Although my previous work has been gratifying, I can see even more opportunity with the help of this endowment. I am grateful to the Department of Earth and Environmental Sciences and the anonymous donor who funded my position, and I feel blessed to work with great colleagues and students here. I believe that MSU will soon become a hub of solid earth geophysics in the Midwest, and I feel fortunate to be involved in this exciting development."
MSU Assistant Vice President for Research and Innovation, Doug Gage; NatSci Dean Phillip Duxbury; and EES Chair David Hyndman, were present at the ceremony along with other NatSci and EES faculty, staff, students and invited guests.
Banner image: The College of Natural Science is home to 52 endowed chairs and professors; the Department of Earth and Environmental Sciences is home to five of these endowed faculty members. Photo by Derrick Turner, University Communications.
Share this story
Contact
Interim Department Chair:
Dr. Jeffrey Freymueller
(517) 355-4626

Department Office:
Natural Science Bldg
288 Farm Lane, Rm 207
East Lansing, MI 48824
(517) 355-4626
(517) 353-8787
geosci@msu.edu