From Idea to Impact, It Takes a "Green Team"
Release Date: Jul 27, 2021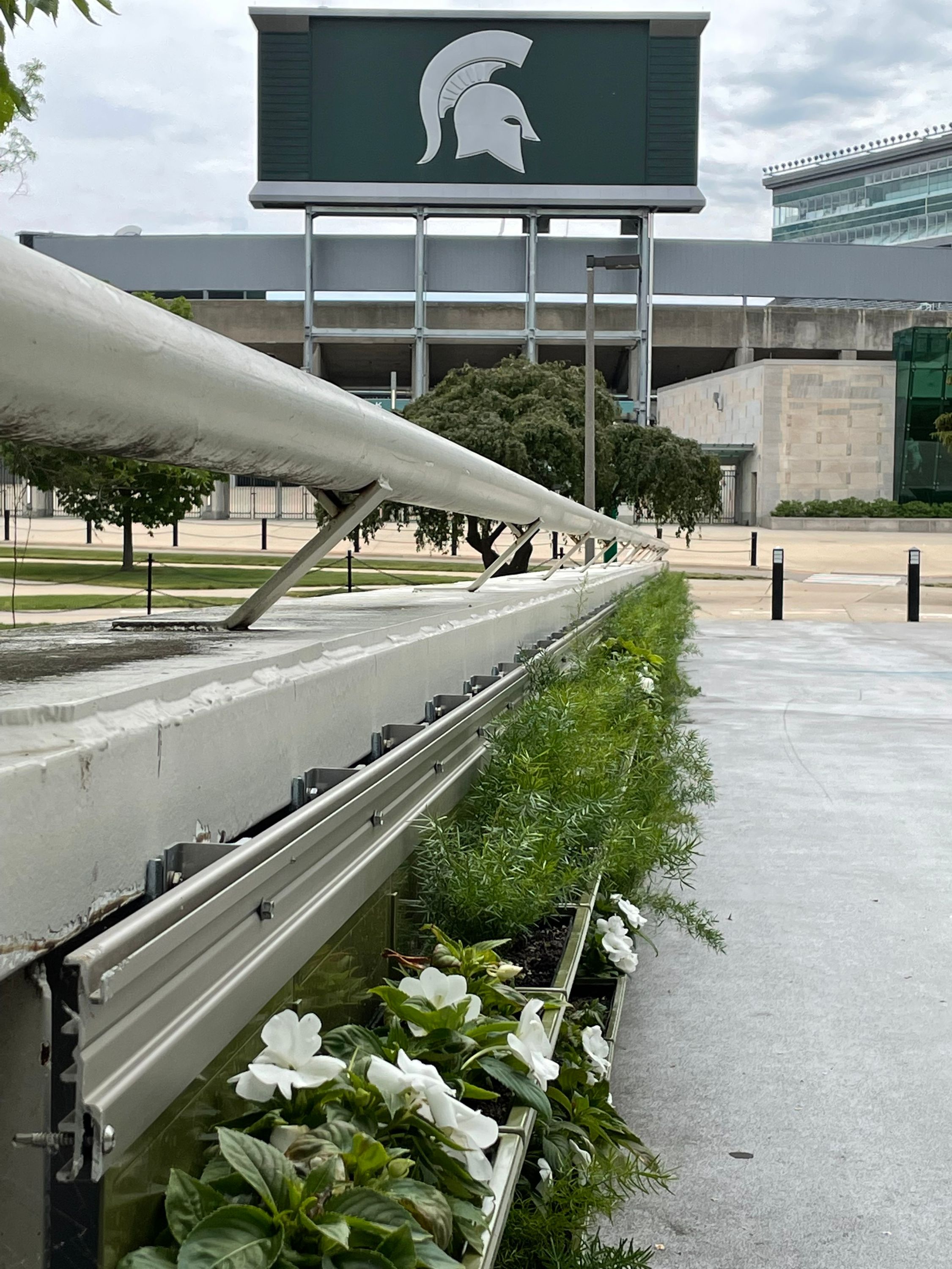 If you take a stroll on the bridge between the main library and Spartan Stadium, you will see two beautiful Green Walls which were installed earlier this summer. The Walls' vertical planters are filled with beautiful New Guinea Impatiens and Asparagus Fern. Not only do these plants have aesthetic appeal, but they also support sustainability on campus. The Green Space Initiative, a collaboration between the student group Sustainable Spartans, the Office of Sustainability (OOS), and Infrastructure Planning and Facilities (IPF), started as the brain child of Earth and Environmental Sciences (EES) Senior J.R. Nosal.
"Because I transferred (to MSU) in 2019, I wanted to get involved with the campus community. The first idea I had was to put plants in the dorms, because most do not have a lot of living greenery indoors. At the beginning of this experience I thought, 'I have an idea. One month later, it is going to be installed.' It was definitely much more complicated."
The original funding source for the dorm project fell through because of the pandemic and supply chain issues. Not wanting to give up, J.R. reached out to the student group, Sustainable Spartans. Prior to the pandemic, the group had tried unsuccessfully to launch a green wall project of their own, so they were open to collaboration. That is how the core team of seven students came together.
Over the course of a year and a half, the "Green Team" began operating in a virtual format, found a new funding source, identified and interviewed subject matter experts, settled on a project implementation plan, found a site, learned how to work with vendors and community partners, documented their progress in a lengthy Learning Matrix, participated in the installation, and wrote a final report among other publications.
In the search for new funding, IPF quickly rose to the top of the list. According to J.R., "IPF has always wanted to work with a funding source from their area to collaborate with a student group, and said, 'You know, this would be a great way to start'".
OOS' authority, Amy Butler, Director of Sustainability, Laura Young, Sustainability Program Coordinator, and Lisa Randolph-Stukey, Office Coordinator, mentored the team of students throughout the full project experience. Most of the team's project management, research, and teamwork learning skills developed as a result of OOS' dedication to the students' success.
Matthew Bailey, Landscape Services Manager, and Yun Cao, Landscape Architect, ran point for IPF on the project. Matthew helped the group obtain funding, mentored the group on formal committee presentations about project locations and designs, and helped walk them through the project management process. Yun consulted on the wall design and plant selection.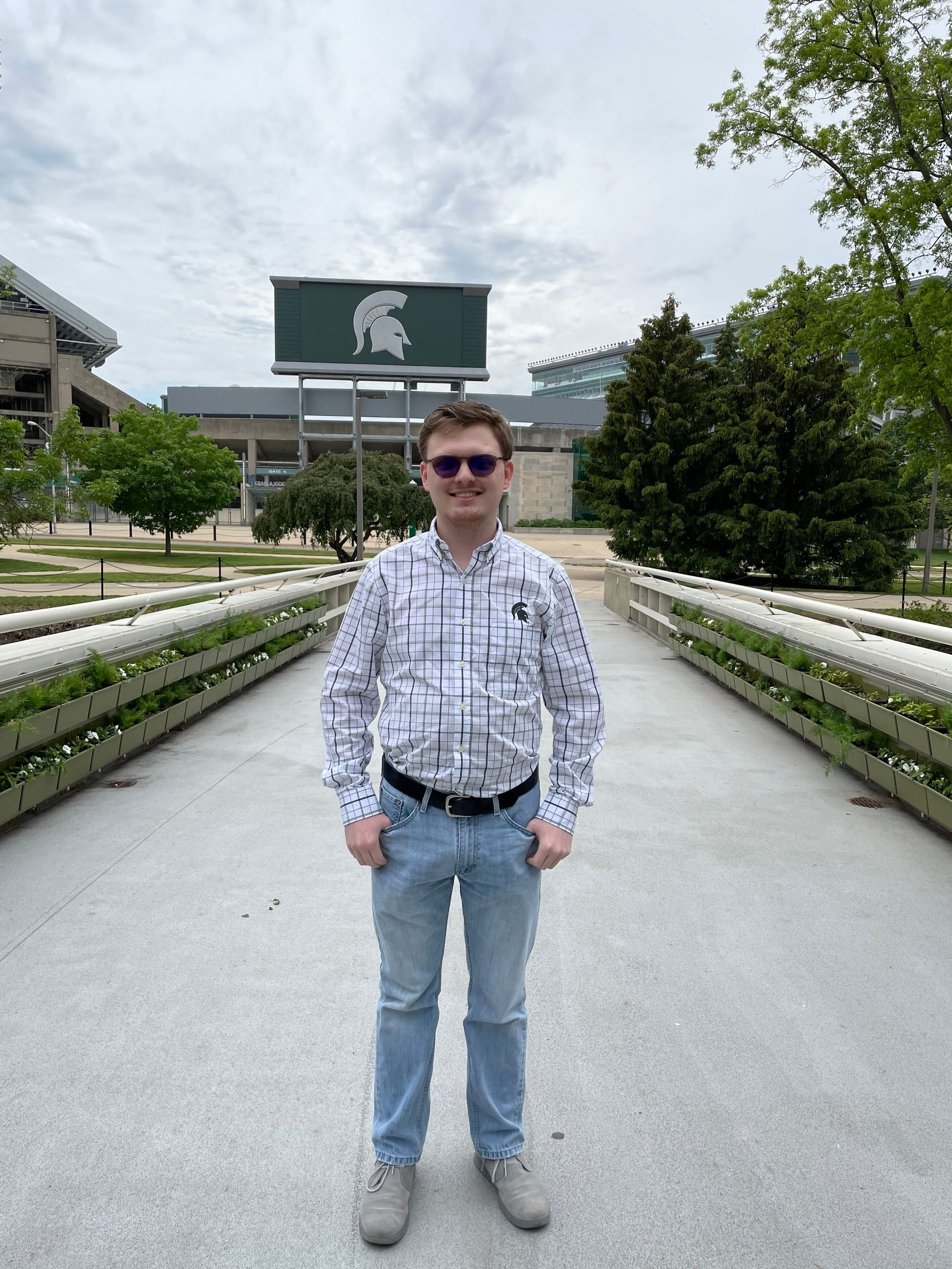 As an Environmental Geoscience major, J.R. also turned to EES for help along the way. EES Associate Professor and Undergraduate Director Danita Brandt served as a sounding board, resume and proposal editor, and connected him with other subject matter experts. As she explained, "We give our students the intellectual space and encouragement to pursue these ideas and help them connect with people and resources they need to help them accomplish their goals."
Other EES faculty have also helped support and influence this initiative. Endowed Assistant Professor Dalton Hardisty taught an environmental geochemistry class that J.R. took in the spring semester of 2020. J.R. was inspired by Hardisty's expertise and later utilized him as a content resource. "When I saw how they (i.e., professors) help their communities by using the natural science data with their education and experience, I thought 'How can I do that?'"
In Hardisty's view, J.R. stood out among his peers. "Seeing a student find joy in linking their passions with real life problems and quantitative solutions is hard to beat, and I saw this process in J.R. from Day One until the end of the semester."
"J.R. and The Green Team highlight the kind of multidisciplinary problem solving we strive for in our EES majors, as they considered creative local solutions to climate change while simultaneously enhancing our beautiful campus." Dalton added.
The team, itself, personified that multi-disciplinary spirit. Members hailed from a variety of majors across campus including geoscience, biochemistry, social science, political science, pre-law, nutrition, advertising, and film making.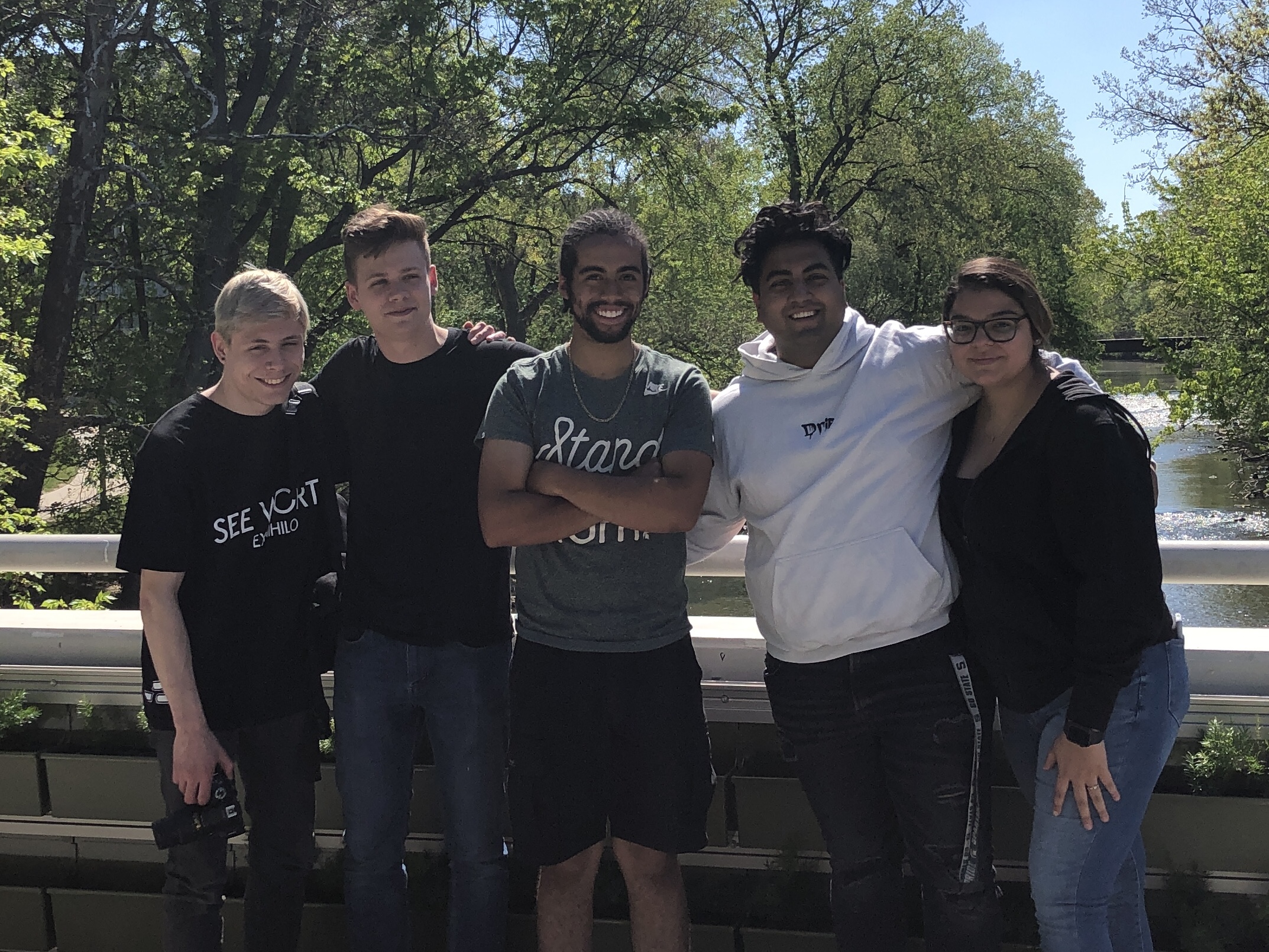 J.R. acknowledged, "We have had a very diverse group, which is really helpful, because all our different backgrounds allowed us to specialize in certain parts of the project. It could not have been done without any one of the team members. That was also a great way to make new friends on campus and off campus. We are all from Sustainable Spartans, and most of us are going to be on the club's E-board next year."
"My biggest takeaway is to not lose hope. Even if you have to pivot or you hit a roadblock somewhere, it does not mean that the project is dead, it just means you have to find a different door to go through."
Now that the Green Space Initiative has been completed, J.R. and the rest of the team have high expectations for the site going forward. "We hope that this raises awareness of environmental sciences, as well as sustainability measures, which can be incorporated at a big ten university. And we just thought that this could be like a metaphorical and a physical bridge to bring people back to campus after this insane year of the COVID-19 pandemic. It also shows how natural science can be applied in your own backyard."
Learn more about the Green Space Initiative:
https://sustainable-spartans.mailchimpsites.com/the-green-space-initiative
https://msutoday.msu.edu/news/2021/student-view-integrating-a-green-urban-design
https://sustainability.msu.edu/discover/Green-Wall-Article.html
Contact
Interim Department Chair:
Dr. Jeffrey Freymueller
(517) 355-4626

Department Office:
Natural Science Bldg
288 Farm Lane, Rm 207
East Lansing, MI 48824
(517) 355-4626
(517) 353-8787
geosci@msu.edu