First Chairman, Stanard Bergquest
Release Date: Apr 27, 2016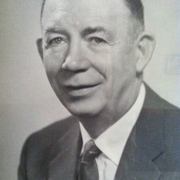 Stanard Gustav Bergquist, Department Chair 1930-1956
Born in Ironwood, Michigan, in 1892, Bergquist received a Ph.D. from the University of Michigan (1933) for his research on the "Pleistocene history of the Tahquamenon and Manistique drainage region of the northen peninsula of Michigan". He came to Michigan State College (MSC) in 1916 as a geology instructor for the Department of Zoology, Physiology, and Geology, and became head of the newly formed Department of Geology and Geography in 1933. Bergquist remained Chair of the new Geology Department after the two disciplines separated in 1950, and continued as Chair until his death in 1956.
Among his accomplishments at MSC/MSU, Bergquist initiated a summer field camp program in the Upper Peninsula, and spearheaded a WPA project to illustrate glacial retreat in Michigan by a series of paintings. He lead numerous glacial geology class field trips in the mid-Michigan area.
Thanks to former GLG Geology Librarian Diane Baclawski for compiling this information about Dr. Bergquist.
Department Contact
Department Chair:
Dr. Jeffrey Freymueller
(517) 355-4626

Department Office:
Natural Science Bldg
288 Farm Lane, Rm 207
East Lansing, MI 48824
(517) 355-4626
(517) 353-8787
geosci@msu.edu